These are not good people, those in charge of the military blast-them-all-away-but charge-citizens-hard-on-the-back-end complexes. Here, below, and I have seen a lot, but I shudder just looking at these, well, misanthropes: Biden, Blinken and Austin, a trio of despicable fellows. All the years Austin worked as a mercenary in uniform, and then the offensive weapons companies he protected in that racket. Biden? Over fifty years of destroying Democracy. Blinken? The 71st United States secretary of state since January 26, 2021. He was deputy national security advisor from 2013 to 2015 and deputy secretary of state from 2015 to 2017 under Obama.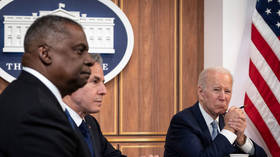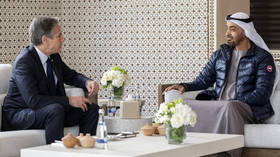 More space junk, leaks, and the moon shot of Artemis. Think about that — billions for that endeavor and it is not one step for man, but rather one giant leap for Lords of War 3.0, and the war merchants and the FIRE branding thugs of billions. And we have teacher shortages, teacher burnout, prescriptions (necessary) for anyone's serious diseases out the roof. All of that crisis after crisis, and the inflation, and the housing market on steroids/lack of affordable housing rising, and the suicide rates, and the lost and lost generations, now, and those unborn. All that infrastructure collapsing, all those homes leaking, all those fields and crops dessicating, all the wind and rain and heat, all the lack of decent living conditions. All of the decay and the rising number of aging people who do/barely live without . . . WITHOUT  decent food, health care, denistry, safe and creative activities of daily living. We do without, man, while we arm Nazis and a billionaire boy Being There schmuk. This is the West, the USA under these felons' leadership (sic) . . .  these thieves, these elites and these Ivy Leaguers. Mainstream Media doesn't just fawn over them; the MSM pimps for them. But pimps in MSM are, well, a dual-use sort of profession — pimping and prostituting. We the people, we the youth, we the students, we the uninformed, are being screwed, blued and tattooed.**
**(The phrase has always had a very definite negative connotation, and means to be supremely screwed, screwed beyond all comprehension. The original phrase was "screwed, blewed and tattooed".
"Screwed" essentially means "cheated" here, much as it does today.
"Blewed" meant "lost or been robbed of". The word's origin is from the German "blauen" so it's actually related to "blue", not "blew", and meant that something had vanished (into the blue). (According to "A Dictionary of Slang, Jargon & Cant" by Charles Godfrey Leland, published in 1889.)
"Tattooed" refers here to a beating with very rapid blows, in the same sense as a military tattoo, which is a rapid pattern on a drum.
So, the phrase literally meant "cheated, robbed and beaten.")
The dance with the devil is us, we the people, The Eighty Percent, dancing to our graves while paying for the sins of the rich, the millionaires and the billionaires.
Gouging, and shortages, death in a corner of an unheated home: the new Cormac McCarthy script (The Road).
Entire regions of the country where homes are unaffordable to most, but where the house flippers get to bid on anything to drive up the cost of a roof over the poorhouse's head. Meth heads and booze drinkers. So many people guzzling drugs and insane ideas to stave off the pain, the suicidal ideation, the drip-drip-drip of death by a thousand neocon/neoliberal/celebrity culture cuts.
Rural hospitals short-staffed/not staffed. Urban hospitals short staffed/not staffed. Massive quits for many professions. Then, the doom of Zoom, all those students in college demanding teachers turn their world in hybrid worlds of students sitting at home, sipping drinks, playing Nerf ball, while getting the classes delivered via internet connection. More of the same nothingness, dead-head dumb thinking, and no conversing.
[Artemis shut down for leaking — more misappropriated junk voted on by NOT you and I!]
Truly, the blashpemy of the media is their collusion with the ZioLensky thief, the Thiefs of Israel, and their collusion with the orgasmic military murdering machine, all the hardware and equipment produced, hawked, sold, used. Imagine, EU throwing weapons at Ukraine, while that perversion of a human, ZioLensky hides in Poland. Imagine all the surrendering of Ukrainian Military to the Russians. Imagine his home in Florida, a cool $28 million worth, the Panama Papers reported.
Imagine Blinken, Biden and Austin in Ukraine. Legitimate targets in my mind. Of course, Ukraine has so much to do with You and I, USA. You know, the ZioLensky amassing $billion$, as the Panama Papers revealed. Well, Pandora Papers, that is! (Panama Papers reveals other thieves and money laundering whores)  Imagine, all the things this society, USA, goes without, and all the sliding systems decaying, and the fraying of social safety nets, all of that, yet, we have Save a ZioLensky Day (daily) at the grocery store, and at the military hardware bargain basement. Easter rotten eggs for the Nazis of Ukraine.
Ukrainian President Volodymyr Zelensky and his partners in comedy production owned a network of offshore companies related to their business based in the British Virgin Islands, Cyprus, and Belize.
Zelensky's current chief aide, Serhiy Shefir, as well as the head of the country's Security Service, were part of the offshore network.
Offshore companies were used by Shefir and another business partner to buy pricey London real estate.
Around the time of his 2019 election, Zelensky handed his shares in a key offshore company over to Shefir, but the two appear to have made an arrangement for Zelensky's family to continue receiving money from the offshore. (Source)
Billions while the heart medicines and diabetes drugs are unaffordable for many. Then, think of Blinken, Biden and Austin. Think of all the fools in the media who make millions a year. All those in the offensive weapons industries. All the governmental workers and all the politicos. Those tanks and "war things" from EU, Germany, hell, ZioLensky is making out like a true war bandit, but in skinny jeans and Gucci shoes).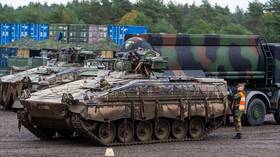 Look at this fool, this Brit, captured by Russia and then his family pleads for "fair" treatment of this guy. He's a soldier for hire, a mercenary, and the British Family wants their son to be treated like what? A criminal, which he is. I can't image this fellow making it on a 20 click hike with a 60 pound rucksack and thrity pounds of weaponry. But this is it for the Western mind and body!
Then these headlines surround this illegality. "Israel has dropped repeated hints at a major strike on Iranian nuclear facilities in the near future". This is kosher? Under world order? Hmm. So, dropping bombs on nuclear facilities is fair game? All over the world? This is why the Jewish Project is a Jaded Project, one geared toward murder and theft. Impunity. Killing Iranians. Blasting nuclear plants? So, how is it Russia doesn't just ka-boom those bioweapons labs in Ukraine? (Do a Google Gulag search on, "Ukraine biolabs" and you get a thousand hits on why that story is fake!)  This is the new abnormal — quash any story that goes outside the neoliberal-rah-rah USA bold coloring lines!
War in Ukraine turns people's lives and affairs upside down. Dirty laundry, previously hidden, is on display. A Russian communication on March 6 mentions "evidence of an emergency clean-up performed by the Kyiv regime was found—aimed at eradicating traces of the military-biological program in Ukraine, financed by @DeptofDefense."

A Chinese Foreign Ministry spokesperson two days later spoke of "26 [U.S.] bio-labs and other related facilities in Ukraine." (Source)
"Germany involved in 'military biological activities' in Ukraine – Russia" (Source)
Bernie's F-35's, man, the Bernie Bro Most Expensive Offensive Weapon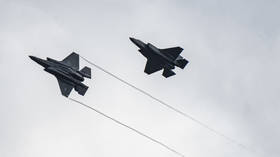 NATO planners are updating the US "nuclear sharing" program to account for most European allies planning to buy F-35 joint strike fighter jets, the alliance's director of nuclear policy said this week. Lockheed Martin's fifth-generation fighter has been embraced by multiple US allies, including most recently Germany, despite the Pentagon's own misgivings about the program.

"We're moving fast and furiously towards F-35 modernization and incorporating those into our planning and into our exercising and things like that as those capabilities come online," Jessica Cox, director of the NATO nuclear policy directorate in Brussels, said on Wednesday, adding that "By the end of the decade, most if not all of our allies will have transitioned" to the F-35. (Source)
Bernie Sanders supports the basing of the F-35s in Vermont. He said, in an interview with the Wall Street Journal, that it would be a "major blow" if the weapons program did not come to Vermont. Referring to the Vermont National Guard, Sen. Sanders stated, "If they don't have planes to fly, there ain't going to be too much for them to do."
If they don't have nukes to fire, then what are they going to do with themselves? If they don't have frigates to sail, what will they do on the water? If they don't have missiles to launch, then what will they do in the air?
And this guy was what? An alternative? What? He's as insane as Trump as Bush as Obama. As Elizabeth Warren reiterated, she is a capitalist . . . "capitalist to my bones…" Sanders is one too.
But we have the beasts of this nation, Israel, all those in Europe, Australia, everywhere the US not only wags the tail but bites with rabid glee. Yet, we have pundits and great intellectuals covering up the tracks of history. All the hatefulness of the Anglo Saxons, the British Isle, all the Euro-Trash, so much, that speaks to that hatred of Slavs, Russians, the Chinese Peril, all those "Orientals," and, alas, the Muslims, we have that elephant in the room of these traitors of humankind. And, yet, Russia, and Syria, and, well, USSR did support many movements, many revolutions, and those in countries considered black and brown. To be honest, the Russians were asked (USSR) to get involved with Afghanistan by the Afghans.
As is the case with the Anglo-American-Canadian-New Zealand-Australia-UK world, there will be blood, in every imaginable way. From birth to death, from the village, to the great cities, the Anglo-American-Canadian-New Zealand-Australia-UK is like a termite of galactic proportions, drilling into all cultures, all tribes, all people of the land, people of seas and mountains and forests. The munching mandibles of that "race" of people. Imagine, calling Russians orcs, subhuman.
The reality is the full force of these demonic masters of slavery — EU, Nato, USA-Israel-UK-ETC. will make Ukraine the killing fields.
They are hoping for a nuclear strike.
And, alas, this is the reality the leftists who support Russia's goals in de-Nazification. The end goal has been shifted. With the full force of the military industrial complex.
While the armies of Ukraine and Russia are preparing for the upcoming battle for Donbass, Kiev's allies are increasing arms supply shipments to Ukraine. The United States, mainly by European forces, is implementing a large-scale rearmament project for Ukraine.

Heavy offensive systems are being transferred to the disposal of the Armed Forces of Ukraine, which will open a new stage of military confrontation.

The delivery of about three hundred modernized Soviet-made tanks to Ukraine was confirmed. According to various reports, Poland transfers the upgraded T-72M1R as the Czech Republic removes its T-72s from storage. The AFU also has 170 Polish BMP-1s at its disposal. Echelons with M109 howitzers and M113 armored personnel carriers are already on the Ukrainian border.

High-precision ammunition is also being transferred to Ukraine, including the M982 Excalibur with GPS guidance and anti-tank SMArt 155 munitions. Ukraine has also been provided with Switchblade mobile barrage ammunition.

Ukrainian troops are being saturated with modern air defense systems including British Starstreak MANPADS and American Stingers.

During a recent briefing, the Pentagon said that a batch of 1,000 ATGMs has already been delivered to Ukraine.

It is reported that Norwegian Naval Strike Missiles are planned to be transferred to Ukraine. According to some reports, the MGM-140 Army Tactical Missile System will be also transferred from Europe. The range of these complexes reaches 300 km, which makes it possible to strike deep into the territory of Russia.

At the same time, mercenaries and military personnel of NATO countries are deployed along with the AFU in Ukraine under the guise of foreign volunteers. The foreign fighters in Ukraine are led by US officers. It has become obvious that the whole command of the AFU is concentrated mainly in the hands of the United States.

On April 14, Russian missile forces eliminated another detachment of foreign mercenaries in Ukraine. As a result of the strike, up to 30 mercenaries of the Polish private military campaign were killed in the settlement of Izyumskoye in the Kharkiv region.

According to unconfirmed reports from local sources, about 2,000 foreign mercenaries, including fighters from Turkey and Azerbaijan, arrived on the territory of the Zaporozhye region. Most likely, foreigners will be deployed on the Avdiivka front lines, since the Russian forces have already begun assault and offensive operations in the area.

In the political arena, the United States openly issues an ultimatum to all countries that are not ready to sacrifice their own interests and stop cooperation with Russia.

US Treasury Secretary Janet Yellen has issued threats to those countries that see an opportunity to benefit by maintaining their relations with Russia and filling the void left by others.

"Let's be clear, the united coalition will not be indifferent to actions that undermine the sanctions we have imposed." – she claimed. (Source)
Monsters.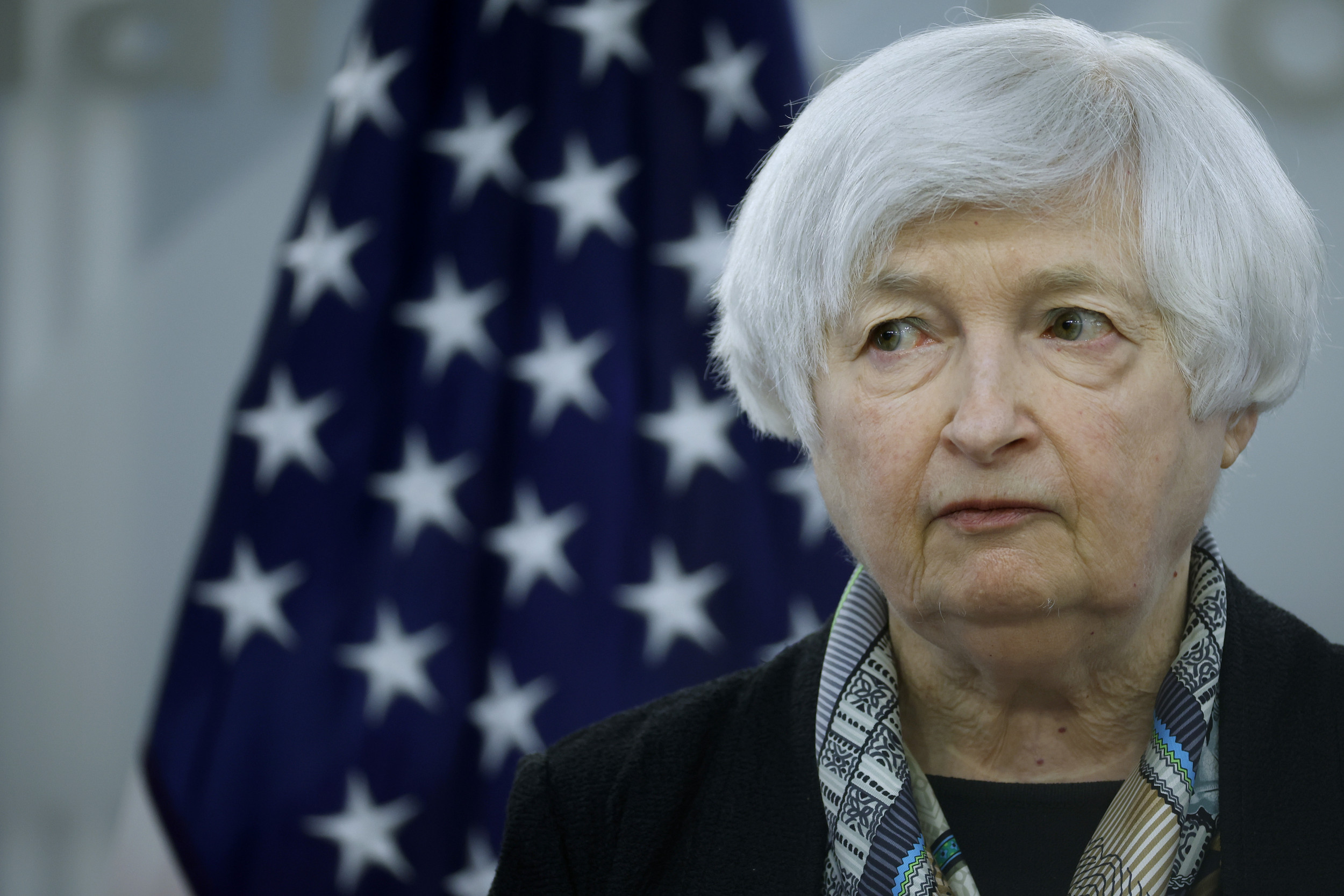 No highly trained and experienced special forces Russian brigade has anything on this whiz woman, Yellen. These are natural born killers, of the massive variety.
The chosen few, those Star Chamber Elite, the veritable unholiest criminals of FIRE — finance insurance real estate — with their weapons of mass destruction — algorithms, Wall Street, Deep State, Shallow State, Sanctions, and, well, we now know, DARPA Bat Virus, et al — they are unbeatable!
Finally, the ZioLensky is looking for his own Ten Year War. Talk about the obscene oligarch:
Ukraine is not prepared to give up its territories and is ready, if needed, to fight with Russia "for ten years," the country's President Volodymyr Zelensky has said.

In an interview with CNN, Zelensky said that for Ukraine "the battle for Donbass is very important" for a number of reasons. He explained that this battle might influence "the course of the whole war." However, the president stressed that the preferable solution of the conflict is the diplomatic one.

"We cannot give up our territory, but we must find some kind of dialogue with Russia," Zelensky said, underlining that no talks could be conducted "on the basis of the Russian ultimatum."

He stressed that a dialogue is needed to prevent more deaths but he hasn't ruled out another option.

"We can fight the Russian Federation for 10 years," Zelensky said.
Those mighty billionaires and multimillionaires will be laughing all the way to the bank, or gold markets.
Shift!!!!
A little poem for Russia, still, National Poetry Month:
Tears of Rage Captured in a Poem and Harmonica Riff
You think dark is just one color, but it ain't. There're five or six kinds of black. Some silky, some woolly. Some just empty. Some like fingers. And it don't stay still. It moves and changes from one kind of black to another. Saying something is pitch black is like saying something is green.

— Toni Morrison, Song of Solomon, Chapter 2, Page 40
'A thoroughfare for freedom beat
Across the wilderness.'
we (they) came, we (USA) laughed
they (Libyans) died, then Yemeni babies
those children of Venezuela
collateral damage, Libya
immolated by Democrat with an H
Clinton laughs when leaders are raped
with blade, but we are the voice
of hypocrisy, Iran, and Brown places
or Black haunts, those Congo tykes pulling up
coltan/iPhones/ Chrome books for all
we dance in our cancel culture….
'And crown thy good with brotherhood
From sea to shining sea.'
talking heads paid for stupidity
millionaires chant to teens and grannies–
'Russia is an enemy, we are at war'
even those puttering PhD fools
learn to forget Yankee damage
to Cuban babies, the kindness
of Norte Americanos holding
death court on Afghanis,
millions will suffer Goldman
JP Morgan Sachs lords of financial war….
'Thine alabaster cities gleam
Undimmed by human tears.'
yet Safeway plies me when I
buy tofu and butter leaf lettuce
'give money for Ukraine'
that fascist Comic ZioLenskyy
trickster of thespian rouse
he dances with billionaires….
'Who more than self their country loved,
And mercy more than life.'
I have friends who dig deep,
journalists where truth is core
principle, where all sides are facets
of complicated stories, now, tomorrow
history redefined is scooped up
pulled apart, a place of discovery
but Americanos can't take nuance
the white is against black
pro versus con, enemy or foe….
'For purple mountain majesties.'
we've been Wobblies for
one century, THEY/USA jailing speakers
we, organizers against capital
shot down by Pinkerton and Police….
'O beautiful for pilgrim feet.'…
today mainstream is extreme
squashing out common sense
old retirees chanting, 'treason . . .
never pro-Russia . . . block anyone shouting Donbas crimes
Crimea crimes . . . '
these old mothball ideas are tools
of CIA, tools of VOA, tools of withering
politicos, plagiarist-rapist VP now POTUS
the digital demigods have it
shutting down free speech zones
closing minds, corralling those of us
called fringe, in their minds
fanatical, gleeful donating
one dollar to a Nazi regime
the optics of Jew with Azov
oh the Congressional dimwits zoomed
comic boy caught money
hiding in Panama Papers…
'Till all success be nobleness,
And ev'ry gain divine.'
how many Safeway campaigns
ask money for Afghanistan
billions stolen from treasury
how many pleas by Walgreens
beg for dollars to stave off
Yemen famine . . . how many
d's with Democrat shouting
'bomb apartheid Israel
fabricated stolen land
of a military industrial complex
stamped with Star of David'?….
'For amber waves of grain.'
those star spangled sycophants
they draw cartoons of their hero
as Europeans shut down
stars and stripes infirm
old men, young Ivy League
demons, telling world–
tighten belts, shower less
yet Safeway and Walgreens
want my shekels for bombs
bullets brigades of mercenaries
yet we hear in all circles
of Dante's hell, screams of
'hate 139 million Russians . . .
death to Slavs . . . sanction
heroes of world war two . . .
eviscerate good people
who plowed over Nazi's . . .
donate to Ukraine.'
old and young
tongues tied to propagandists
chanting homilies from mainstream
media, minds blended into mush
the hubris and greed and power
Yankee Doodle Dandy eyeing
China, wanting every dead
Taiwanese as the price of
red white and blue
sanctions –unilateral murder
until Safeway and Walgreens
plead for dollars for Taiwan-
Ukraine as USA/RoboCop
stuffs trillions
into war machine
oil machine
retail machine….
'O beautiful for spacious skies.'
Brother, sister will you spare
a billion for big bad bombs?
Behold, you are beautiful, my love;
behold, you are beautiful;
your eyes are doves.

–"Song of Solomon,"1:15