<![if !vml]>
<![endif]>
<![if !supportEmptyParas]> <![endif]>
HOME† DV NEWS SERVICE† ARCHIVE† SUBMISSIONS/CONTACT† ABOUT DV
<![if !supportEmptyParas]> <![endif]>
When Precision Bombing Isnít
Iraqi Civilians Learn the Lesson of Afghanistan
by Marc W. Herold
Dissident Voice
March 31, 2003
<![if !supportEmptyParas]> <![endif]>
<![if !vml]>
<![endif]>
<![if !supportEmptyParas]> <![endif]>
Freudian slip? A marine of the U.S. Marine Expeditionary Unit replaces the Iraqi flag at the entrance to Iraq's port of Umm Qasr on March 21, 2003, with the flag of the occupiers and the flag of the U.S. Marine Corps. The flag was later taken down as it was deemed a politically incorrect gesture.
<![if !supportEmptyParas]> <![endif]>
By now, those who wish to see may find all the signs of a repeat carnage - bombed buses, pulverized homes, an incinerated central market, flattened civilian structures [the tourist center on the Tigris and the large museum in Tikrit (1)], bombed neighborhoods, a bombed abandoned customs house, a girls' school leveled in Basra [see photo below], scores of wounded civilians in hospitals, etc... (2) The Pentagon, DoD, defense 'intellectuals', retired generals, and mainstream corporate press sign collective hosannas to 'precision' bombing which ring ever so hollow. Those who dared to look found the same for the U.S. attack upon Afghanistan [or the deadly night-time assault upon Panama in December 1989 which killed over 3,000 innocent civilians]. After a week of U.S.- U.K. attacks, Iraq's health minister reported on March 27th that 350 Iraqi civilians had died and 3,600 had been injured and the Pentagon reported that 600 Tomahawk cruise missiles, more than 4,300 "precision-guided" bombs had been dropped in the first 6 days of the war. (3)
<![if !supportEmptyParas]> <![endif]>
U.S. 'precision' projectiles have fallen in neighboring Turkey and Iran. (4) An early report mentioned U.S. missiles hitting structures in Iran's city of Abadan and injuring two. (5) On March 24th, another U.S. 'guided' missile hit the Iranian town of Qasr-e-Shirin. (6) Other 'guided' weapons have downed 'Allied' aircraft, killed 'friendly' troops, etc.. At least one state-of-the-art Apache attack helicopter was hit by rifle fire and lay forlorn in a field near Karbala, an expensive monument to technological U.S. prowess laid to waste by simple Iraqi farmers. Apache down.
<![if !supportEmptyParas]> <![endif]>
<![if !vml]>
<![endif]>
<![if !supportEmptyParas]> <![endif]>
Hamza Hendawi reported on the first night of U.S. strikes upon Baghdad when scores of Raytheon cruise missiles and 2,000 lb. JDAM bombs delivered by F-117 stealth warplanes rained down upon Baghdad after 9 P.M. [incidentally, exactly the same time Afghanistan was hit on the night of October 7, 2001]. Iraqi radio said Saddam's family home was targeted along with homes of his three daughters. Hendawi continues:
<![if !supportEmptyParas]> <![endif]>
"After the first round of attacks, nine people were in serious but stable conditions with shrapnel injuries at Al-Yarmouk Hospital, Dr. Jamal Abed Hassan said. They included six members of one family that was having breakfast when their town 20 miles west of Baghdad was hit, he said...Al-Kindi Hospital in the working class Al-Nahda district treated five people for wounds, including Iraqi TV journalist Anmar Waheed and his sister, who were hurt as they tried to reach a shelter, according to Dr. Osama Saleh al-Dilimi...Information Minister Said al-Sahhaf said "coalition" forces hit a customs compound and an Iraqi TV facility in western Iraq...he said two civilian locations were struck south of Baghdad." (7)
<![if !supportEmptyParas]> <![endif]>
The International Committee of the Red Cross confirmed on March 20th that 15 civilians had been injured and one killed in the first attack upon Baghdad. (8) The killed civilian was near the Rutba crossing on the Jordanian border, whereas other casualties occurred in a building used by Iraqi state TV in the Al-Anbar province, 150 kilometers west of Baghdad. (9)
<![if !supportEmptyParas]> <![endif]>
Hear the words of a Belgian doctor in Baghdad's Al-Yarmouk hospital:
<![if !supportEmptyParas]> <![endif]>
<![if !vml]>
<![endif]>
<![if !supportEmptyParas]> <![endif]>
Rossel Salam, a 10 year-old girl . Hurt on Friday, March 21st, in the west end of Baghdad. At about 9 P.M. she was in her garden. There was a blast and metal splinters were flying about . Her wrist, forearm, hand and breast were hit. She has multiple fractures. A tube has been put in her thorax, her lung was hit and blood has entered her chest cavity. She is visible in great pain. When we want to take pictures she is very brave. Her dad cautiously removes the blanket to show us her wounds. She is moaning with pain and stretches out her hand, fingers opened. Her dad stoops forward, takes her hand and softly talks to her. I ask her 'how are you feeling?'. 'I am alright', she says but you can see that she is not alright. She is ten and already proud. Her father, 44 with two children, adds: 'we are strong, they cannot bully us and we are going to win'. His morale is clearly not broken, despite his daughter's serious injuries. It may even motivate him more not to have his country squandered. The Iraqis are proud people with a long history. At school they are taught a lot about the past, they are conscious of their value.
<![if !supportEmptyParas]> <![endif]>
<![if !vml]>
<![endif]>
<![if !supportEmptyParas]> <![endif]>
Sahad Asan, 10. Hurt yesterday at about 9 pm while at home. Twelve people were hit at the same time in that neighborhood. Injuries on both legs and in his belly. He has a drain in his belly. He is visibly in great pain. Weah, his 25-year-old cousin is angry with us: 'why are you here? don't you see it is terrible enough as it is?' Doctor Faysal rebukes him, we don't understand him, but we get the gist of his words. Faysal explains that the man takes us for journalists and does not understand why we are here.
<![if !supportEmptyParas]> <![endif]>
On March 26th, U.S. State Department spokesman Richard Boucher intoned once again [after apologizing for killing five Syrian civilians],
<![if !supportEmptyParas]> <![endif]>
"American forces will continue to attempt to protect civilian lives to the greatest extent possible." (10)
<![if !supportEmptyParas]> <![endif]>
Robert Fisk wrote about "bubbles of fire" tearing into the night sky of Baghdad, dark red at the base, golden at the top. (11) He mentioned the first civilian killed in Baghdad: a taxi driver blown to pieces in the first American raid on Baghdad. A couple of days later, Fisk provided details of the human face of the U.S. air war upon Iraq,
<![if !supportEmptyParas]> <![endif]>
"[F]ive-year-old Doha Suheil...looked at me yesterday morning, drip feed attached to her nose, a deep frown over her small face as she tried vainly to move the left side of her body. The cruise missiles that exploded close to her home in the Radwaniyeh suburb of Baghdad blasted shrapnel into her tiny legs, they were bound up with gauze and, far more seriously, into her spine. Now she has lost all movement in her left leg...[Doha] was the first of 101 patients brought to the Al-Mustansaniya College Hospital after the American blitz on the city began Friday night. Seven other members of her family were wounded in the same cruise missile bombardment...[or] take 50-year-old Amel Hassan, a peasant woman with tattoos on her arms and legs but who now lies on her hospital bed with massive purple bruises on her shoulders they are now twice their original size who was on her way to visit her daughter when the first American missile struck Baghdad. "I was just getting out of the taxi when there was a big explosion and I fell down and found blood everywhere," she told me. "It was on my arms, my legs, my chest."...Her five-year-old daughter Wahed lies in the next bed, whimpering with pain. She had climbed out of the taxi first and was almost at her aunt's front door when the explosion cut her down. Her feet are still bleeding although the blood has clotted around her toes and is staunched by the bandages on her ankles and lower legs. Two little boys are in the next room. Sade Selim is 11; his brother Omar is 14. Both have shrapnel wounds to their legs and chest." (12)
<![if !supportEmptyParas]> <![endif]>
<![if !vml]>
<![endif]>
<![if !supportEmptyParas]> <![endif]>
<![if !vml]>
<![endif]>
Top: a home bombed in Kabul, and Bottom: a young Afghan boy injured in the village of Agam
<![if !supportEmptyParas]> <![endif]>
The same scenes are repeated across Iraq after U.S. bombs and missiles rain down. Echoes of Afghanistan. Even the photos look familiar (see above). General Franks, Secretary Rumsfeld, Vernon Loeb and Tom Ricks [of the Washington Post] (13), etc. recycle the old tired texts used in the winter of 2001/2. As in the Afghan battle of Shah-i-Kot where a French pilot of a Mirage 2000 fighter plane refused to drop bombs upon a U.S.-chosen target, so in Iraq the pilot of a F/A-18 Super Hornet refuses to do the same, feeling Iraqi civilians would've been killed. (14) The U.S. military and media strive, again, to present a vision of combat as bloodless and antiseptic, though with considerably less success this round as compared to the Afghan case. (15) For its part, Al-Jazeera broadcasts chilling photos of dismembered Iraqis, destroyed buildings, and captured U.S. troops. It is joined now by other Gulf state TV stations who now dominate the production of images, as the Iraq regime sent the propagandists of CNN off packing on Friday, March 21st.
<![if !supportEmptyParas]> <![endif]>
The effects of U.S. 'precision bombing' in Baghdad were captured by Carolyn Cole, whose pictures were featured in the Los Angeles Times [March 24, 2003]. She shows the Radiha Khatoum neighborhood where crushed buildings buried a woman and Iraqi rescue workers furiously labored to recover the body. She shows Shahid Halid, 9, resting in a hospital, unaware that her mother was killed in that U.S. "precision" strike.
<![if !supportEmptyParas]> <![endif]>
At 7:30 PM on Saturday, U.S. bombs rained down on the Qadissiya neighborhood of old central Baghdad. Shafa Hussein returned from taking her sick son to a Baghdad hospital and found her home in ruins. Five other homes were demolished and 10 others damaged. The residents said the target must have been President Hussein's Salam palace, located about 3 kilometers away. (16)
<![if !supportEmptyParas]> <![endif]>
Mr. Rumsfeld, on the other hand, endlessly asserts on the surgical nature of the U.S. strikes upon 'military targets':
<![if !supportEmptyParas]> <![endif]>
"The images on television tend to leave the impression that we're bombing Baghdad. The coalition forces are not bombing Baghdad." (17)
<![if !supportEmptyParas]> <![endif]>
<![if !vml]>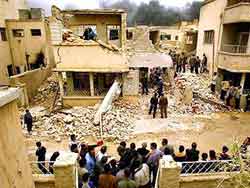 <![endif]>
<![if !supportEmptyParas]> <![endif]>
<![if !vml]>
<![endif]>
<![if !supportEmptyParas]> <![endif]>
On Saturday, Al-Jazeera's team in the city of Basra sent out graphic pictures of dead and wounded civilians. These images were all but ignored in the West, which was fixated upon the couple of pictures of American prisoners of war.
<![if !supportEmptyParas]> <![endif]>
On Sunday, a U.S. 'precision' air-to-surface missile struck a passenger bus on the Iraqi side of the Syrian border, as it carried Syrian civilians fleeing the war. (18) Five people were killed and 10 wounded. A wounded worker, Marwan al-Shayesh, told Syrian TV that the missile struck when the bus had stopped near a bridge for a short rest and the passengers were climbing out.
<![if !supportEmptyParas]> <![endif]>
<![if !vml]>
<![endif]>
A father carrying his daughter felled by U.S. bombs in Basra
<![if !supportEmptyParas]> <![endif]>
The destruction of Iraq's civilian infrastructure - though not yet on the scale of 1991 - is proceeding and promises to accelerate as the battle of Baghdad unfolds. We all saw the dramatic photos of Baghdad burning, the walls of fire and mushroom orange clouds, during the first nights of U.S. missile and bomb attacks. Unlike in Afghanistan, the more developed Iraqi state had built sprawling administrative structures in areas removed from residential neighborhoods. Hence, the early U.S. bombing of the west bank of the Tigris River in Baghdad spared most civilians. But, the infrastructural damage has been nonetheless significant : bridges hit in western Iraq, a direct hit on the museum in Tikrit [yes!], a couple of direct hits on Friday night upon the Kharrada tourist complex on the banks of the Tigris.
<![if !supportEmptyParas]> <![endif]>
Two members of Iraq Peace Team left Baghdad for Jordan on March 23rd and wrote about their journey,
<![if !supportEmptyParas]> <![endif]>
"The trip from Baghdad was lonely and creepy. We saw burning oil pits, bombed and burned out cars of the side of the road, a couple of downed bridges, a destroyed roadside tea stand [the place we always stop on the trip to Baghdad from Amman], a destroyed ambulance abandoned down the embankment, a few routes hastily blocked with piles of rock, etc."
<![if !supportEmptyParas]> <![endif]>
<![if !vml]>
<![endif]>
<![if !supportEmptyParas]> <![endif]>
The BBC reporter and resident of Baghdad, Subhy Haddad, visited civilians injured in the U.S. raids, at the Al-Nouman hospital in northern Baghdad. (19) The hospital surgeon said 29 people had been injured in a missile or bomb attack on northern Baghdad at noon with 5 dying on the way to the hospital. Haddad interviewed some of the injured able to speak,
<![if !supportEmptyParas]> <![endif]>
"One of them, a 12-year-old girl, Shad Khalil, said that all the six members of her family were seriously injured when the missiles fell on the area she lives in. Among the injured was a 40-year-old woman called Thana Wahid Jassim who works as an engineer in a local private company. She said a missile had fallen on her house. All the members of her family, including her husband, were seriously injured, she told us. Her husband was undergoing surgery. She said the blast was so strong that the ceiling fell on their heads. We asked some of the injured whether there were any military targets in the area. They all said the only famous building in the area was the Royal Cemetery, where the old kings of Iraq are buried. It is a residential area - I know it very well."
<![if !supportEmptyParas]> <![endif]>
Dr. April Hurley of Iraq Peace Team presents further details of the wounded of Baghdad in her article "Outrage in Baghdad." (20)
<![if !supportEmptyParas]> <![endif]>
Also on the 25th, James Meek of The Guardian reported from the heavily fought-over town of Nassiriya. He spoke with the surgical assistant at the city's Saddam hospital, who told him that on Sunday, U.S. bombs fell on Nassiriya's civilian areas, killing 10. (21) An unconfirmed report mentioned British troops shooting at civilians in the town of Safwan on the 25th, a town hard hit - as many as a dozen people were killed - in the early days of the war as U.S. and U.K. forces headed north. (22)
<![if !supportEmptyParas]> <![endif]>
Reporting from Baghdad, the Washington Post's Anthony Shadid described what happened to the Khalil family on Tuesday, as they sat down at noon, to east boiled eggs, tomatoes and bread. (23) As the two children told stories, a whisper sound was heard. In seconds, the house was shattered by an American 'precision' cruise missile. Um Aqeel, the mother of five children, and her daughter-in-law, Sahar, were killed. Two sons and a daughter were wounded. Some time later at the hospital, the head of 14-year old Ali, another son of the Khalil family, was wrapped in a bandage. His sister, Shahid, 9, lay motionless. Her fingernails were painted in sparkles and ringed by dried blood.
U.S. Army Brigadier General Vincent Brooks (24) at Camp As Sayliyah, Qatar, media center of U.S. Central Command soothes,
<![if !supportEmptyParas]> <![endif]>
"We do everything physically and scientifically possible to be precise in our targeting." (25)
<![if !supportEmptyParas]> <![endif]>
While independent reporters are present in the larger cities, what happens in the Iraqi countryside goes largely unspoken. A few rare, courageous people have ventured out there and written about their experiences. One such is Jo Wilding, a human rights observer of the group, Iraq Peace Watch, sends out occasional reports. In the entry for March 26th, Wilding describes U.S. attacks carried out on March 22, 23, 25 and 26th:
<![if !supportEmptyParas]> <![endif]>
* March 22nd in the farming community of Al Doraa. At 4 P.M. U.S. Apache helicopters attacked. Atta Jassim died when a US 'guided' missile hit his house. Moen, his 8-yr-old son received multiple bowel and intestinal injuries from shrapnel. His 6-yr.-old brother Ali and mother Hana were also injured.
<![if !supportEmptyParas]> <![endif]>
* March 25th in Al Mahmoodia, South Baghdad. Saad Shalash Aday is another farmer. He had a fractured leg and multiple shrapnel wounds including a ruptured spleen, perforated caecum, colon and small bowel, abdominal and leg wounds. Two of his brothers, Mohammed and Mobden, were also injured and ten year old twin boys Ahmed and Daha Assan were killed in the same house when a bomb exploded two or three meters from the building. The doctor, Dr Ahmed Abdullah, said two other men were killed in the same attack around 6 P.M. yesterday (Tuesday): Kherifa Mohammed Jebur, a 35 year old farmer and another man whose name nobody present knew. Eight houses and four cars were destroyed and cows, sheep and dogs were killed. The eyewitnesses described two bombs, each causing an explosion in the air, and cylindrical containers - cluster bombs, some of which exploded on the ground. Others did not explode. The two explosions were about 300 meters apart, with a few minutes between them. From first hearing the plane overhead until the second explosion, they estimated, took about 10 minutes. "Is this democracy?" the men demanded to know, gathered by Saad's bed. "Is this what America is bringing to Iraq?"
<![if !supportEmptyParas]> <![endif]>
* March 26th . At 9 this morning a group of caravans was hit with cluster bombs, according to the doctors. A tiny boy lay in terrible pain in the hospital, a tube draining blood from his chest, which was pierced by shrapnel. They said he was eight, but he looked maybe five. The doctors were testing for abdominal damage as well. I'm not sure whether he knew yet, or could understand, that his mother was killed instantly and his five sisters and two brothers were not yet found. His father had gone to bring blood for him and his uncle, Dia, was with him. Rusol Ammar, a skinny ten year old girl with startling eyes, flinched occasionally when breathing hurt her - she had multiple injuries from glass and shrapnel, as well as a fractured hand. Dr. Ahmed explained that, at the velocity caused by an explosion, even a grain of sand could cause injury to a child Rusol's size. They weren't yet sure what was in her chest. Her dad said something hit their street and exploded. They were in their house and tried to close the door against the fireball but the windows blew in and the glass and shrapnel flew everywhere. His other children were unhurt. Rusol smiled the most gorgeous smile when we told her how brave she is, and that it will give courage to children everywhere when we tell them how brave she is.
<![if !supportEmptyParas]> <![endif]>
* March 23rd in Babylon. Today I met Essa Jassim Najim, a 28 year old first-year engineering student from a farming family near Babylon. He couldn't speak because of shrapnel wounds to his head and neck but his father explained that three days ago they were attacked by two groups of Apache helicopters. The first group attempted to land and the farmers resisted them with guns, aided by the Civil Defence Force. The second group of helicopters attacked the house, destroying it with a missile.
<![if !supportEmptyParas]> <![endif]>
At 11:30 AM on March 26th, two U.S. cruise missiles slammed into the central marketplace crowded with shoppers and motorists, consisting of 30 shops and residences in the populated neighborhood of Al-Shaab in northern Baghdad, killing 15-27 innocent civilians, breaking water mains flooding streets, downing street lights. Hamza Hendawi reported,
<![if !supportEmptyParas]> <![endif]>
"Two cruise missiles have struck a residential area in Baghdad, killing at least 15 people, Iraqi defence officials said. The attack occurred in the northern Baghdad neighborhood of Al-Shaab, which contains dozens of shops and homes. The Arabic satellite television channel Al-Jazeera showed several charred cars and at least one bloodied body being carried away. Hundreds of people stood in front of what appeared to be a bombed-out building, some holding their fists in the air and shouting, "There is no God but God!" Associated Press Television News video showed a large crater in the middle of the street, a smoldering building, a child with a head bandage, and bodies wrapped in plastic sheeting in the back of a pickup truck." (26)
<![if !supportEmptyParas]> <![endif]>
Robert Fisk visited the Abu Taleb Street in this dirt-poor mostly Shia muslim neighborhood - a place of oil-sodden car-repair shops, overcrowded apartments and cheap cafes. (27) He wrote,
<![if !supportEmptyParas]> <![endif]>
"It was an outrage, an obscenity. The severed hand on the metal door, the swamp of blood and mud across the road, the human brains inside a garage, the incinerated, skeletal remains of an Iraqi mother and her three small children in the still-smouldering car...the final death toll is expected to be near to 30 and Iraqis are now witnessing these awful things each day...Abu Hassan and Malek Hammoud were preparing lunch for customers at the Nasser restaurant on the north side of Abu Taleb Street. The missile that killed them landed next to the westbound carriageway, its blast tearing away the front of the cafe and cutting the two men - the first 48, the second only 18 - to pieces. A fellow worker led me through the rubble. "This is all that is left of them now," he said, holding out before me an oven pan dripping with blood."
<![if !supportEmptyParas]> <![endif]>
<![if !vml]>
<![endif]>
<![if !supportEmptyParas]> <![endif]>
<![if !vml]>
<![endif]>
The Al-Shaab neighborhood in northern Baghdad showing destroyed homes and vehicles, hit by U.S. 'precision bombing' [AP and Reuters photos]. More pictures of the carnage at http://news.bbc.co.uk/2/hi/in_depth/photo_gallery/2888307.stm
<![if !supportEmptyParas]> <![endif]>
The initial U.S. response was that it 'knows nothing' of the Baghdad market bombing and that its invasion of Iraq is on schedule. (28)
<![if !supportEmptyParas]> <![endif]>
Also on the 26th, a U.S. bomb and missile attack on Iraqi TV probably represented an attempt at censorship and may have breached the Geneva Conventions - note that a similar US assault took place on the Taliban's radio and TV stations in early October 2001. (29) The prestigious International Federation of Journalists notes that international law forbids attacks upon TV and radio stations unless they are used for military purposes.
<![if !supportEmptyParas]> <![endif]>
Reuters reported on a bus filled with 20 men which was fired upon in "a storm of bullets" by advancing US troops. (30) Twenty corpses littered the ground in the village of Qal'at Sukkar. Marines searching the blood-stained luggage could produce only two small handguns!
<![if !supportEmptyParas]> <![endif]>
But, Mr. Rumsfeld reassures the American public,
<![if !supportEmptyParas]> <![endif]>
"The images on television tend to leave the impression that we're bombing Baghdad. The coalition forces are not bombing Baghdad."
<![if !supportEmptyParas]> <![endif]>
On Day 7 of the U.S. assault upon Iraq, U.S. forces killed upwards of 40 Iraqi civilians. Al Jazeera's team in the city of Mosul reported that seven houses were destroyed and bombs had killed or wounded more than 50 civilians. (31) Footage from the area depicted destroyed houses and trucks filled with bags leaving the scene. (32) In the southern city of Al-Zubayr, two Reuters journalists cited residents saying as many as 15 had been killed by US-UK firing. Om Talai, 40, her youngest child at her feet, lamented,
<![if !supportEmptyParas]> <![endif]>
"We live in fear at night....already two of our houses have been destroyed. Why must they fire on our houses and kill civilians?" (33)
<![if !supportEmptyParas]> <![endif]>
The heavy bombardment of Baghdad continued - walls of fire and clouds of smoke billowing from stricken buildings. The Information Ministry was targeted, witnesses said. (34) They also noted that a housing complex for employees of a weapons-producing facility about 12 miles south of Baghdad was hit and that an unknown number of people were killed and wounded. The al-Ulwiyya telecommunications center on a main avenue in the central Saadoun neighborhood was destroyed. (35) Iraqi officials said the Thursday attacks on Baghdad had killed seven and wounded 92 civilians.
<![if !supportEmptyParas]> <![endif]>
<![if !vml]>
<![endif]>
†Rescuers Search for Bodies in Al-Mansour Residences
<![if !supportEmptyParas]> <![endif]>
To all this, another eight dead and 33 injured should be added when two more US "precision" bombs slammed into the Al-Mansour residential district in central Baghdad. Witnesses said one resident was thrown by the explosion as he completed his noon prayers. (36) Amy Goodman spoke with an Iraqi engineer on the 27th who provided details of life under US bombs in Baghdad. (37) A few hours after the attack upon the Al-Mansour neighborhood which killed at least 8, another US 'precision' bomb struck the Shula residential area of northwestern Baghdad, killing 52-58 more innocent Iraqis and wounding many more. (38)
<![if !supportEmptyParas]> <![endif]>
As Jo Wilding wrote on March 28th, "home isn't safe, the farms are not safe, the market isn't safe. Nowhere is safe." (39)
<![if !supportEmptyParas]> <![endif]>
<![if !vml]>
<![endif]>
An Indonesian Woman
<![if !supportEmptyParas]> <![endif]>
Doha Sheil of Baghdad tried vainly to move the left side of her body. And the bearded militiaman in al-Shaab:
<![if !supportEmptyParas]> <![endif]>
"Knelt in the rain and used his gun to shift the earth of the bomb crater. "There is a hand still here in the ground," said Wasim al-Shinmari. "I can't touch it. I'm sorry, but I just can't touch it." He exposed what looked like a pale lump of human flesh against the dirt, and then dissolved in sobs. "The bodies went to hospital, but the hand is here," he said. Around him a small circle of men shouted: haram, haram - abomination. But it was unclear whether they meant the unburied human remains, or the audacity of America's bloody attack on an otherwise unremarkable suburb of Baghdad." (40)
<![if !supportEmptyParas]> <![endif]>
Haram!
<![if !supportEmptyParas]> <![endif]>
Marc Herold is a professor in the Departments of Economics and Women's Studies at the Whittemore School of Business & Economics, University of New Hampshire. Email: mwherold@cisunix.unh.edu.† This article first appeared at Cursor.org, posted with authorís permission.
<![if !supportEmptyParas]> <![endif]>
FOOTNOTES
1. Annick Benoist [in Paris], "Iraq's Heritage in Jeopardy," Middle East Online [March 27, 2003] with a photo of the US bomb impact upon the Tikrit museum
2. Data on the numbers of Iraqi civilians killed in the U.S-U.K. military campaign, may be found at the website of the Iraq Body Count team, www.iraqbodycount.net
3. "Guerra matou 350 civis iraquianos e feriu 4,000, diz ministro," Folha de Sao Paulo OnLine [March 27, 2003 at 06:16]; also Jacques Charmelot, "Iraq: More Than 350 Killed in First Week of War," Middle East Online [March 27, 2003]
4. Illene R. Prusher, "Errant US Missile Raises Ire of Turkish Villagers," Christian Science Monitor [March 25, 2003]
5. Mohammad Amini and Dan De Luce, "Basra Hit By Bombardment," The Guardian [March 21, 2003] and "Iranian Oil Ministry Building Near Iraq Hit by Missile," AP World at Yahoo!News [March 21, 2003]
6. "Third Stray Coalition Missile Lands in Iran," The News [March 27, 2003]
7. Hamza Hendawi, "Baghdad Pounded by Bombs for Second Night," Associated Press [March 20, 2003 at 3:19 PM EST]
8. "15 Civilians Injured in First Attack: Red Cross," ABC.net.au [March 21, 2003]
9. Samia Nakhoul [in Baghdad], "Civilians Hit, Says Baghdad," The Age [March 21, 2003]
10. "US 'Regrets Deaths' in Bus Blast," Herald Sun [March 26, 2003]
11. Robert Fisk [in Baghdad], "Bubbles of Fire Tore into the Sky Above Baghdad," The Independent [March 21, 2003]
12. Robert Fisk [in Baghdad], "This is the Reality of War. We Bomb. They Suffer," The Independent [March 23, 2003]
13. Writing about the "new American way of war" in The Washington Post, Thomas E. Ricks recently pointed out that the past decade has seen a dramatic increase in the military's ability to hit long-range targets with "unprecedented precision... relying as never before on gigabytes of targeting information gathered on the ground, in the air, and from space."
14. "Targeting Civilians Creates a Rift in Anglo-American Troops," The Balochistan Post [March 26, 2003]
15. Patrick J. Sloyan, "War Without Death: The Pentagon Promotes a Vision of Combat as Bloodless and Antiseptic," San Francisco Chronicle [November 17, 2002]
16. Hassan Hafidh [in Baghdad], "Air Raids Wreck Civilian Homes in Baghdad," Reuters [March 23, 2003 at 06:32 AM ET]
17. Linda Diebel, "'Real-Time' TV Coverage a Real Headache for Bush," Toronto Star [March 24, 2003]
18. "Syria Claims U.S. Missile Strike Deaths," Associated Press [March 24, 2003]
19. Subhy Haddad, "Eyewitness: Visiting Baghdad's Wounded," BBC News [March 25, 2003 at 10:59 GMT]
20. at http://electroniciraq.net/news/394.shtml dated March 24, 2 004. Photos from Baghdad's emergency rooms may be found at http://electronicIraq.net/news/394.shtml
21. Paul Reynolds, "Basra: Why They Are Not Cheering," BBC News [March 25, 2003 at 13:53 GMT]
22. Geoffrey York, "Few in Safwan Want to Forgive, Forget," The Globe and Mail [March 26, 2003]
23. Anthony Shahid in Baghdad, "Missile Strike Shatters a House, and a Family," Washington Post [March 25, 2003]
24. for background on Brooks, see http://www.suntimes.com/output/iraq/cst-nws-brooks27.html
25. "U.S. Confirms Firing Missiles Into Iraqi Neighborhood. Iraq Says 14 People Were Killed," NBC6.net [March 26, 2003 at 2:51 EST]
26. Hamaz Hendawi, "US Missiles Hit Civilians: Report," Associated Press [March 26, 2003] and Suzanne Goldenberg, "Wayward Bombs Bring Marketplace Carnage," The Guardian [March 27, 2003]
27. Robert Fisk, "It Was an Outrage, an Obscenity," The Independent [March 27, 2003]
28. "US 'Knows Nothing' of Baghdad Market Strike," ABC News Online Australia [March 27, 2003 at 4:09 AM AEDT]
29. "Group: Iraq TV Raid May Break Geneva Convention," Reuters [March 26, 2003 at 06:49 AM ET]
30. Sean Maguire, "U.S. Advance Leaves Bus Full of Corpses," Reuters [March 27, 2003 at 14:55 GMT]
31. Estimated as follows : 15 in Al-Zubayr, 7 in Baghdad, and assuming a 2:1 ratio of injured to killed, ~17 in Mosul.
32. "'Civilians Killed' in Mosul Raid," Herald Sun [March 28, 2003]
33. Michael Georgy and Rosalind Russell [in Al-Zubayr], "Iraqi Militia Pin Down U.S-Led Forces in South," Reuters/Yahoo!News [March 27, 2003 at 1:49 PM ET]
34. "Baghdad Under Air Attack Again," Ananova [March 27, 2003 at 21:24] with photo of Baghdad in flames
35. "Baghdad Pounded in New Air Strikes," Middle East Online [March 28, 2003 at 09:41], with photo of Baghdad in smoke
36. "Coalition Raid on Baghdad Kills Eight Iraqis," Middle East Online [March 28, 2003 at 13:17], At http://www.middle-east-online.com/english/iraq/?id=4917
37. At http://www.jihadunspun.net/intheatre_external.php?article=49508&list=/home.php
38. "'Many Dead' in Baghdad Blast," BBC News [March 28, 2003 at 22:22 GMT], and Suzanne Goldenberg, "52 Die in Baghdad Market Blast," The Guardian [March 29, 2003]
39. Jo Wilding, "Iraq Diary: Nowhere is Safe," The Guardian [March 28, 2003]
<![if !supportEmptyParas]> <![endif]>
HOME
<![if !supportEmptyParas]> <![endif]>