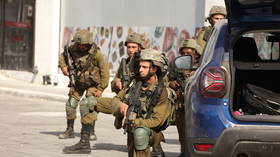 07 October 2023, Israel, Sderot: Israeli officers secure the area following the attacks of Hamas
© 
Getty Images /
Ilia Yefimovich/picture alliance via Getty Images
A number of Arab states have called for "restraint" and a de-escalation of violence following the launch of the largest attack in years on Israeli territory early on Saturday morning.
Qatar, a Gulf state that does not have diplomatic relations with Israel, issued a statement through its foreign ministry on Saturday in which it said that the ultimate responsibility for the so-called 'Al-Aqsa Storm' operation conducted by Hamas lies with the Israeli government.
Doha added in its statement its desire for both sides in the conflict to exercise restraint, and called on the international community to ensure that Israel does not use the event as an excuse for a "disproportionate" response against Palestinians in Gaza.
Saudi Arabia, another state that does not currently have formal ties with Israel, also released a statement on X (formerly Twitter) to say that it was "closely following up on the unprecedented developments" between "Palestinian factions and the Israeli occupation forces."
The Saudi foreign ministry also said it had repeatedly "warned of the dangers" that might occur "as a result of the continued occupation" and for "depriving the Palestinian people of their legitimate rights."
In recent weeks, the leadership of both Saudi Arabia and Israel have signaled a desire to normalize relations, with the United States understood to be actively negotiating the details. Earlier this week, Hamas expressed its "unwavering position of rejecting all forms of normalization and contact with the Israeli occupation."
Early on Saturday, Hamas militants entered Israeli territory and have appeared to gain a foothold of control in some communities in the south of the country. Israeli authorities said more than 2,000 rockets had been launched from Gaza. At least 40 people have been killed, Israel's health ministry said on Saturday afternoon, with more than 500 people injured. Reports have also said that an unknown number of Israeli citizens and soldiers have been taken captive.
Egypt, meanwhile, cautioned of potentially "grave consequences" that might emerge from a further escalation of tensions between Israel and the Palestinians. Its foreign ministry also called on both sides to exercise "maximum restraint and avoid exposing civilians to further danger."
Turkish President Recep Tayyip Erdogan said on Saturday during a congress of his AK Party in Ankara that both sides in the conflict "must refrain from aggressive acts." He also warned against "any kind of attempt" to damage or harm the "historical and religious status" of Al-Aqsa mosque in the occupied territory of East Jerusalem.
The Lebanon-based militant group Hezbollah also issued a statement on Saturday to indicate that it was "in direct contact with the leadership of the Palestinian resistance." It added that Hamas' assault could be viewed as a "decisive response to Israel's continued occupation and a message to those seeking normalization with Israel."
However, Hezbollah's statement stopped short of expressing an intention to militarily support the attack.